WHAT WE STAND FOR
Certificates guarantee harmlessness
Meyer/Stemmle only uses raw materials in the manufacture of its products that have been tested for their suitability for their intended use and for their compliance with food regulations. Appropriate certificates are available for all the raw materials used (plastics, papers, paints, glue, etc.) and you will receive the necessary declaration of conformity for all products.
Quality control
QUALITY CONTROL is given top priority at Meyer/Stemmle. The production process is only started after careful inspection of release samples by quality assurance. QA permanently controls production by random sampling throughout the entire process. Commercial articles are also subject to Meyer/Stemmle's strict quality standards. The goods are only delivered after they have been inspected by the quality assurance staff.
Environmental protection
Acting environmentally consciously means securing the competition and the future. The prerequisites are openness and transparency in the corporate process as well as a continuous willingness to find new and innovative solutions.
Climateline
We offer you the option of a joint climate protection alliance with Climateline. Despite significant reductions in production, unavoidable residual CO2 emissions are offset by purchasing CO2 certificates. This supports environmental projects in Germany and around the world.
The Blue Angel
Awarded by the "Environmental Label Jury" panel of experts, the "Blue Angel" is a generally recognised symbol for environmental protection. Products with the "Blue Angel" meet product requirements that are traceable due to transparent control procedures.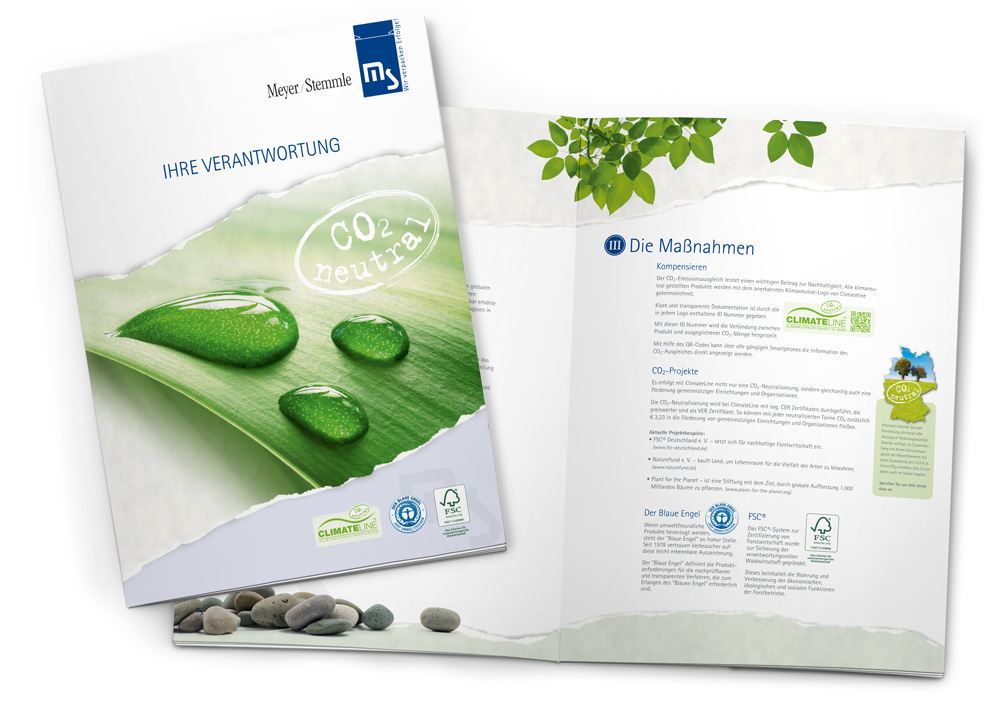 TO THE FOLDER
Sustainable forestry
Only certified papers from ecologically sensible and sustainable forestry are used in production. Meyer/Stemmle is both FSC® and PEFC™ certified.