Gift bags
PRODUCT DESCRIPTION
The gift bag for Kunert is called "Kelly Bag" internally, because it has a similar shape to the famous bag by Grace Kelly and looks almost as valuable due to its elegant print, magnetic closure and bow.

Gift bags give your products a classy backdrop and ensure stylish, fast and stress-free packing for your sales assistants.

The individual design possibilities are limitless.
ENVIRONMENTAL SEAL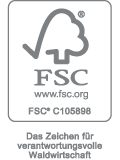 CONFIGURATION
Thank you very much for your enquiry!
We will get back to you as soon as possible!

Your Team Meyer/Stemmle